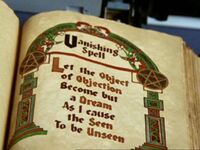 This spell was written in the Warren Book of Shadows by an unknown Warren witch. Its main purpose is to hide or remove any disturbance. It was most often used by Paige Matthews to help her loved ones or to clean up after a magical incident.
The Spell
Edit
"Let the object of objection
Become but a dream,
As I cause the seen,
To be unseen."
Ad blocker interference detected!
Wikia is a free-to-use site that makes money from advertising. We have a modified experience for viewers using ad blockers

Wikia is not accessible if you've made further modifications. Remove the custom ad blocker rule(s) and the page will load as expected.