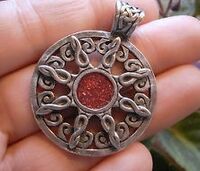 The Solaris Coven is a coven of magical witches located in Paris. Each member of the coven wears a necklace with a sun, the symbol of the coven. There were originally eight members, though the coven is trying to recruit new members by organizing Wiccan practitioner groups in the hopes of finding magical witches.
Coven Members
Edit
Current members
Former members
Celine, a witch with the power to float, she was murdered by Luke.
Adriana, a witch with the power to inflict pain on others, she was seduced and killed by Oliver.
Appearances
Edit
Ad blocker interference detected!
Wikia is a free-to-use site that makes money from advertising. We have a modified experience for viewers using ad blockers

Wikia is not accessible if you've made further modifications. Remove the custom ad blocker rule(s) and the page will load as expected.