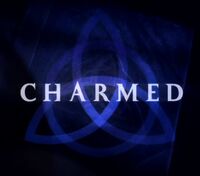 The Seer: "It will work in both our interests. You get to be a hero to your family. I get the spell I need and the Morrigan loses her precious book. Win-win-win."
Julian: "But who will benefit the most, I wonder? What if helping you ends up biting me in the ass?"
Legacy 114: P3 Times a Lady is the fourteenth chapter of the Legacy Series, which focuses on the next generation of Halliwells.
Plot Description
Edit
Timeline: 2029
As Penny prepares for the reopening of P3, dark forces gather around her. Seeking to help his family, Julian reluctantly works with the Seer to obtain something valuable from the Morrigan. Meanwhile, Payton discovers a secret about Tess and wonders if she should tell Henry.
Characters
Edit
Returning Characters
Introducing Characters
Notes and Trivia
Edit
The title is a reference to P3 and the song "Three Times a Lady" by the Commodores, which was written by Lionel Richie.
This marks the first time that the cousins come face-to-face with the Morrigan.
The Seer's past and true name are revealed in this story.
Reading Link
Edit