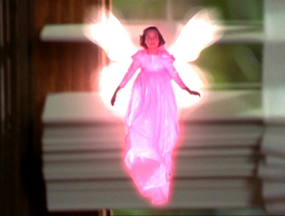 Fairies are winged magical beings that are a few inches in stature. They inhabit a magical realm that is seperate from the mortal world, protected by a magical veil. They can travel between their realm and the mortal world by traveling through in between places, such as doorways and shadows.
Fairies are ruled by a royal family and are good-hearted, though they can be mischievous as well. They are typically invisible to adults and can only be seen by children until they reach a certain age. However, some magical beings, such as witches, can see them with a spell. Additionally, Fairies can choose to reveal themselves as they desire.
The Charmed Ones once helped a Fairy princess named Thistle and a little girl named Kate when they were attacked by Trolls, the natural enemy of Fairies. After this, the sisters called upon Fairies several times to help them in times of need, such as in the battle against Zankou.
Main article: Tess
When Thistle nearly reached adulthood, she was expected to take the throne. She was scared of the reponsibility and ran away, wanting to experience human life and freedom. She transformed herself into a human and began attending Baker High School as Tess.
Powers and Abilities
Edit
Active Powers
Passive Powers
Through Fairy Dust
Known Fairies
Edit
Ad blocker interference detected!
Wikia is a free-to-use site that makes money from advertising. We have a modified experience for viewers using ad blockers

Wikia is not accessible if you've made further modifications. Remove the custom ad blocker rule(s) and the page will load as expected.