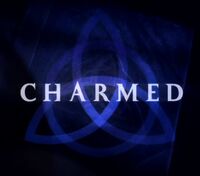 "In this vault lie the most sacred and powerful of artifacts. To protect the world, these objects must never see the light of day again."
Chosen Chapter 10: Raiders of the Lost Valley is the tenth chapter of the Chosen Series.
Plot Description
Edit
Timeline: mid 2008
When Arthur does not return from his expedition as planned, Violet and Billie set out to find him and team up with a young explorer. Meanwhile, Duncan enlists the help of Leo to clear the twins' criminal record before the Tribunal.
Characters
Edit
Returning Characters
Introducing Characters
Unnamed Brute Demon, vanquished by Duncan and the twins.
Robert, a young research assistant, he is transformed into a Garuda.
Magical Notes
Edit
Spells Used
Edit
Notes and Trivia
Edit
The title is a reference to the Indiana Jones film, "Raiders of the Lost Ark". Billie and Violet also mention Indiana Jones in their discussion about Bryant.
When Violet arrives at Magic School, she overhears Leo talking to some students about how the sisters reclaimed the school, which happened in The Closing Chapter.
The Tribunal appears again. Additionally, several references are made to their first appearance in "Crimes and Witch-Demeanors".
This story marks the beginning of the main arc and reveals more about the history of Wizards.
It is revealed that Gideon once wanted to bring the twins to Magic School, but that the Elders would not allow it.
This is the first appearance of the Chosen House, the Chosen will have moved in by the following chapter.
Reading Link
Edit
https://www.fanfiction.net/s/10310631/1/Chosen-Chapter-10-Raiders-of-the-Lost-Valley